REVIEW — "Wind River" Blu-ray
Wind River is written and directed by Taylor Sheridan, stars Jeremy Renner, Elizabeth Olsen, Gil Birmingham, Jon Bernthal, Julia Jones, Kelsey Chow, and Graham Greene. It tells the story of an FBI agent who teams with a town's veteran game tracker to investigate a murder that occurred on a Native American reservation.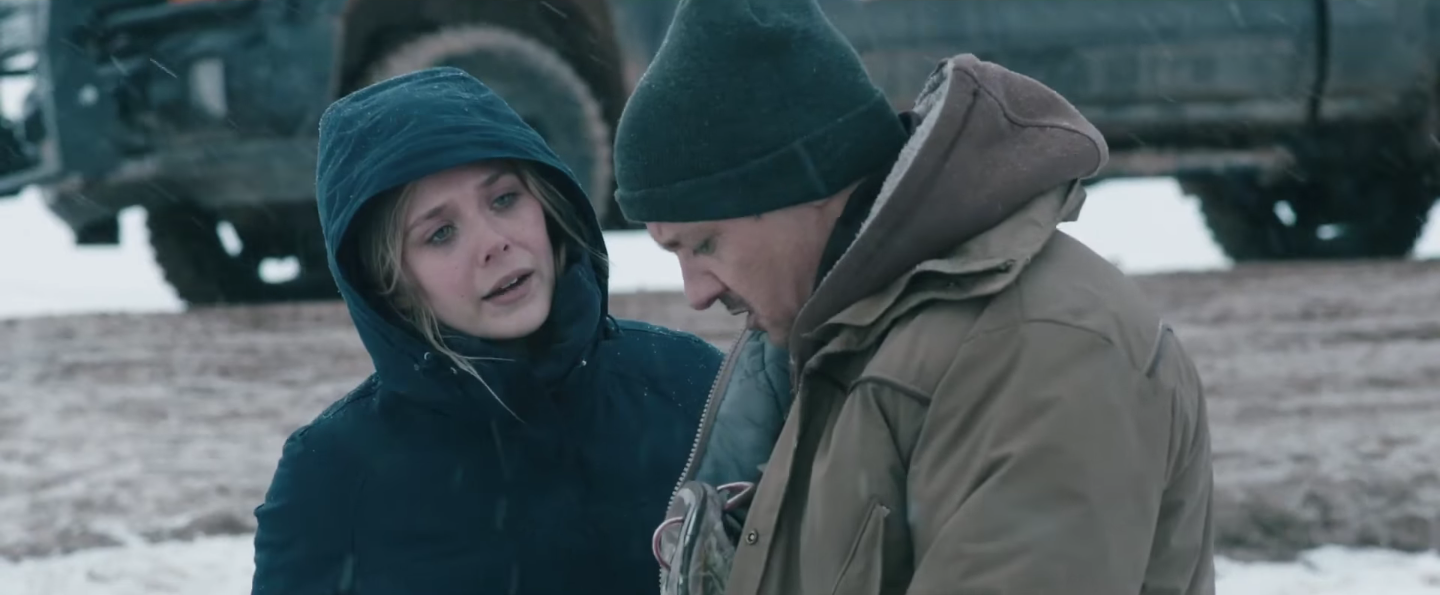 Wind River was one of the big hits out of Sundance and has finally found its' way to a Blu-Ray release, and the world is a better place because of it. This is a fantastic film and ranks among my favorites of the year. I was lucky enough to get my hands on a copy of the Blu-Ray so strap in for a rave review. To re-cap, Wind River is an insanely tense thriller with fantastic acting, cinematography, and great direction from Taylor Sheridan. I would highly recommend it to anyone who likes movies and I'm very happy to have it. Renner gives his best performance and I'm genuinely in love with Elizabeth Olsen. But creepy gushing aside, what did I think of the Blu-Ray?
For such a great movie, Wind River is a pretty bland Blu-Ray. The picture quality is expectedly clear and crisp, which is standard for Blu-Ray releases at this point. But since the cinematography is so great, the image is so great to just look at. Shots are sweeping and gorgeous and really benefit from a Blu-Ray release. The Blu-Ray does come with a slipcover which is always a plus in my book, but this release does not come with a DVD, only a VOD code, so take that as you will. Visually, I actually think the cover art is a little lacking, but hey Jeremy Renner and Elizabeth Olsen are a bunch of cuties, so If I saw this at the store, I'd at least be interested in it. There are very few special features on the Blu-Ray, which was a tad bit disappointing.
Wind River has a great presentation. It's 1080p UHD 16×9 Widescreen 1:85:1 presentation is obviously better than the lower DVD presentation, and while the lack of special features don't make this a necessary buy, the film is so good that it makes it a worthwhile Blu-Ray. The deleted scenes were a nice inclusion, but I honestly didn't really care for the Behind-The-Scenes Video Gallary. I would have really enjoyed seeing cast and crew interviews or footage from its premiere at Sundance. Wind River is lucky I like it so much because this release is criminally bare bones for such a great movies.
Wind River is obviously a movie I love, and while I can't recommend you go out and buy this immediately, I definitely think it's worth your time.
Wind River will be available on DVD, Blu-Ray, and Digital on November 14, 2017!