SSFF REVIEW — "The Miseducation Of Cameron Post"
This and Boy Erased make quite the double feature
The Miseducation of Cameron Post is directed by Desiree Akhavan, written by Akhavan and Cecilia Frugiuele, and stars Chloë Grace Moretz, John Gallagher, Jr., Sasha Lane, Forrest Goodluck, Marin Ireland, Owen Campbell, Kerry Butler, Quinn Shephard, Emily Skeggs, Melanie Ehrlich, and Jennifer Ehle. Based upon the book of the same name, it tells the story of Cameron Post, who is shipped off to a conversion therapy center that treats teens "struggling with same-sex attraction." At the facility, Cameron is subjected to outlandish discipline, dubious "de-gaying" methods, and earnest Christian rock songs-but this unusual setting also provides her with an unlikely gay community. For the first time, Cameron connects with peers, and she's able to find her place among fellow outcasts. Next, in my series of SCAD Savannah Film Festival reviews, The Miseducation of Cameron Post is a film I had heard tons about before seeing. Winning the Grand Jury Prize at this year's Sundance Film Festival, this had a fair bit of hype surrounding it, and thankfully it's very earned hype. The Miseducation of Cameron Post is a charming, heartfelt, and honest story with great characters and a deeply impactful story.
Desiree Akhavan is directing here and she does a great job. Desiree brings such a distinct personality and identity to Cameron Post, that you can't help but enjoy yourself. She handles the material with such care and with such a great sense of humor, that she's able to pull off the balancing act of this story wonderfully. Cameron Post will warm your heart, and then break it within the same scene. Akhavan fills the screen with warmth and passion, that even when the story gets a bit darker, she's still able to maintain this weird, but surprisingly hopeful tone. For a sophomore effort, she does quite the job and although this is not her debut film, she has become an exciting and important voice in independent cinema regardless.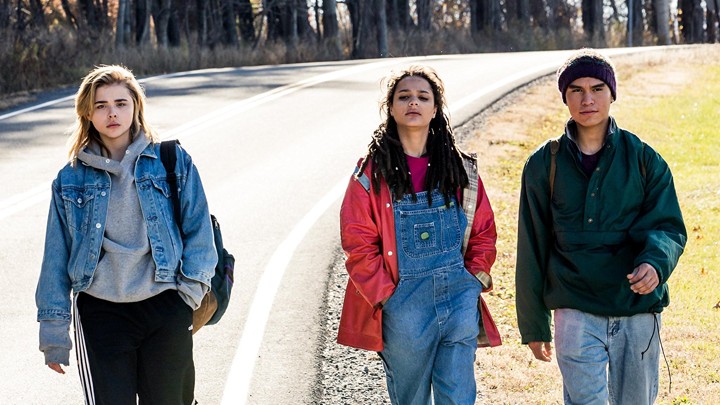 The script is penned by Akhavan and Cecilia Frugiuele and they do a great job. Although they had some great source material to work with, the pair do a fine job building these characters for the audience. Cameron Post is a classic coming of age story in every way. The plot of the film takes a backseat to the journey of self-discovery and identity Cameron and her friends go through. That's not to say there is no plot, as there is a riveting and thought-provoking story to accompany the wonderful character development present. The only problem this script has, it that it does feel a bit long, and the film is only 90 minutes. This is due to the fact that it often feels like it's ending or concluding and then will continue on. The ending we do get is satisfying and an apt ending to the story, it's just preceded by 2 or 3 other endings. Overall the script does a fine job establishing character and establishing tone, it just has a tough time getting to its finale.
The Miseducation of Cameron Post is also lucky to have a great cast. Mortez delivers a career-best performance, marking a new and exciting turn in her career. The ensemble cast does a great job as well, delivering many humorous and touching performances. John Gallagher, Jr does a particularly fine job, making us laugh and cringe all in the same scene. Sasha Lane and Forrest Goodluck also prove to be quite the dynamic duo, and I wish we could have spent more time with their characters. While this is really Mortez's show here, the entire cast does a great job.
On a technical level, The Miseducation of Cameron Post does a fine job. The cinematography is intimate and warm and accompanied by an equally warm and personal score. The production design is spot on, nailing the look and feel of all church camps, and they often times utilize long takes. While it's no Blade Runner 2049, for a film made on such a shoestring budget, I can't help but be impressed with what they were able to accomplish.
In short, The Miseducation of Cameron Post is an endlessly enjoyable film with likable characters, a moving story, and showcases a talented new voice in independent cinema. 4/5