REVIEW — Netflix's "Wet Hot American Summer: Ten Years Later"
Wala Wala Who!
Wet Hot American Summer: Ten Years Later is written by David Wain and Michael Showalter, directed by David Wain and serves as a sequel to the 2001 film Wet Hot American Summer, and the 2015 series Wet Hot American Summer: First Day of Camp. It tells the story of the what happened to the campers and counsellors ten years after the original Wet Hot American Summer. It stars A.D. Miles, Amy Poehler, Beth Dover, Chris Meloni, Chris Pine, David Hyde Pierce, David Wain, Elizabeth Banks, Eric Nenninger, H. Jon Benjamin, Janeane Garofalo, Jason Schwartzman, Joe Lo Truglio, John Early, Josh Charles, Ken Marino, Kristen Wiig, Lake Bell, Marguerite Moreau, Marisa Ryan, Michael Ian Black, Michael Showalter, Molly Shannon, Nina Hellman, Paul Rudd, Rich Sommer, Sarah Burns, Zak Orth, Skyler Gisondo, Samm Levine, Mark Feuerstein, Marlo Thomas, Joey Bragg, Jai Courtney, Dax Shepard, Alyssa Milano and Adam Scott. Now that the lengthy introduction is done, I feel I need to be transparent with you. I absolutely love David Wain projects. First Day Of Camp was my favourite show of 2015 and They Came Together is one of my favourite comedies. So this is a review by a huge fan. When 10 Years Later was announced I was obviously very excited.  So what did I think? While it is the weakest entry into the franchise, Wet Hot American Summer: Ten Years Later is still expectedly hilarious, absurd, and silly while also being shockingly emotional and sincere. While it was a tad disappointing, the spirit of Camp Fire Wood is still very much alive.
David Wain directed all 8 episodes and before I get into his directing I have to say, what he has created is incredible. He has made, in a way, his own world. The universe of Wet Hot American Summer is so strange and weird, you can't help but love it. So how did it go this time around? 10 Years Later is a surprisingly mature entry into the series. It's still mind-numbingly silly and absurd, but he makes sure to take his time with the story and gives each character an emotionally satisfying arc. A Sentient Can travelling the world is taken as seriously as Paul Rudd's relationship with his kids. I found myself shocked by how genuinely touching the show gets. But that's not to say 10 Years Later is a drama, it's very much a comedy. Wain clearly wanted to try something different and for the most part, it paid off. It's safe to say I'm very excited to see what Wain does next with this absurd series, and I can't wait to see A Futile and Stupid Gesture.
David Wain and Michael Showalter are writing once again and, unfortunately, it is very hit or miss. Some gags and jokes work brilliantly, but some don't. I don't think any jokes bombed per say, it was just I found myself silent too many times. I laughed a lot, just not as much as a Wet Hot entry should. Some story lines are more interesting than others and some characters are forgotten about. But, when 10 Years Later is good, it is fantastic. The final episode is great and serves as top tier satire. But where it fails in the comedic department, it surprisingly makes up for it in the drama department. 10 Years Later has a surprising amount of genuine emotion and character development. It does a great job of balancing silly and serious. Some great gags are featured here. I point to The Can and The Waitress and Adam Scott's whole character (Which I won't spoil like every site seems to do). 10 Years Later is an underwhelming, but worthy follow up to the series.
10 Years Later obviously has a stacked cast and they're all great. It's just so nice to see everyone back together and on nostalgia alone, this is a knock-out. I feel like it's unfair to complain that I wanted more from everyone but I did. I will never get enough of Chris Meloni or Paul Rudd. With the returning cast, Micheal Ian Black is a standout. He is so great and I loved every second he was on screen. In terms of new members, they all, for the most part, do great. Alyssa Milano is so great, she fits right in. I wanted to see so much more from her, she really nails it. Jai Courtney did a good job, I just felt his character was kinda useless. Adam Scott is a very welcome addition to the team and I hope they find a way to keep him on. The whole cast does a great job. They all get it and are all having a blast. I would kill to see a blooper reel and this series could be 8 Episodes or 80 and I would gladly watch all of it.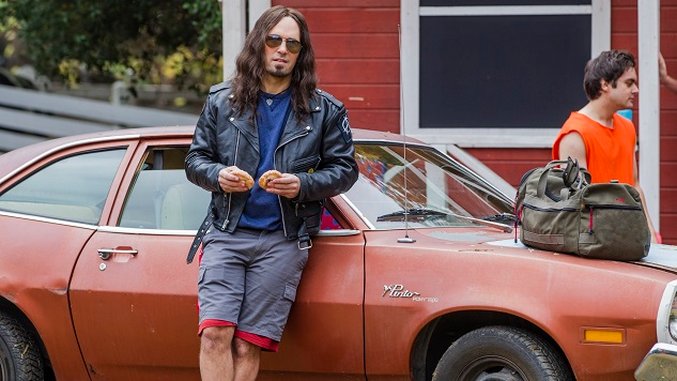 I'm so frustrated, I want to love this bad, but I can't. I'm such a huge fan of the franchise and maybe my expectations were too strong, or maybe I've outgrown it. I'm not sure. There is a lot to love here, I just didn't. Something feels missing. I can't place my finger on it, but every other entry had such an energy and excitement to it and at times 10 Years Later falls flat. Maybe on rewatch I'll come around, but I'm left with a sour feeling. I feel the need to say I really did enjoy this season of the show, I promise. It's silly, hilarious and a blast start to finish, I just needed something more. If you've noticed, I've said "I" about 100 times this review and that's because the disappointment really is just for me. I'm such a big fan, I don't know if anything could have satisfied me. I don't know if anyone else feels the same way I do or maybe I too have lost the spirit of Camp Firewood. Maybe in 20 years, I'll finally be happy.
So in short, while I found myself disappointed with it, Wet Hot American Summer: 10 Years Later is still worth your time. I'll never get enough from David Wain and everything we get from him should be celebrated. 3/5
Be sure to SHARE this with friends! 🙂