REVIEW — "Valerian and The City Of A Thousand Planets"
I wish Jennifer Lawrence and Chris Pratt had done this instead of Passengers
Valerian and The City Of A Thousand Planets is written and directed Luc Besson and stars Cara Delevingne, Dane DeHaan, Clive Owen, Rihanna, Ethan Hawke, Herbie Hancock, Kris Wu and Rutger Hauer. It tells the story of a dark force threatening Alpha, a vast metropolis and home to species from a thousand planets. Special operatives Valerian and Laureline must race to identify the marauding menace and safeguard not just Alpha, but the future of the universe. Okay, I'll be honest. In the weeks following the trailer for Valerian, I seemed to be the only person excited for it. Everyone and their mother thought this looked bad, but I held out. No matter how much I was laughed at, made fun of, or even criticized for being a little interested in this project, I held out. This made it on to my most anticipated list, and early reviews were very positive. SO, now that I've seen it, was it worth it? Kinda of… Valerian and The City Of A Thousand Planets is a visual masterpiece, creating a vast an sprawling world, while also being an underwritten, miscast and generic Sci-Fi romp. There is a lot to love here, but there's also a lot to hate.
Luc Besson is directing here and he does a great job. His past work includes Léon: The Professional, The Fifth Element and Lucy and while none of them have blown me away, they've all been interesting. A common thread of Besson's filmography is the very divisive reactions they have. He can be aptly described as a "Love it or Hate it" director and that is never more present here. Valerian is very ballsy and I'm kind of in awe of how weird and different it is. While the story is not the freshest or the tightest, Besson has created a new world that feels lived in and raw. He really throws everything at the wall and while it doesn't all quite stick, what does it impressive. He has clearly put a lot of care and thought into this universe and I was surprised to see Valerian not bait a franchise. This is a stand-alone, original, and frankly stunning film that simply due to the spectacle of it all is worth seeing.
Luc Besson also penned the screenplay and unfortunately he does not do so hot here. Valerian's story is painfully generic. Every twist and turn is very predictable, and while original and admittedly cool ideas are here, the story is extremely dull. Everything is very much by the books and it all leads up to a sorta Scooby Doo ending where Valerian and Laureline just spell out the villains plan beat by beat. The dialogue is at times choppy and on the nose and there are scenes where the actors clearly struggle through. There are great moments in here, the first 30 minutes are very well paced and the entire Big Market sequence is fantastic but ironically, once we get to the City Of A Thousand Planets, everything sort of falls apart. This could have benefited from someone other than Besson doing a re-write because the script is the weakest part of Valerian.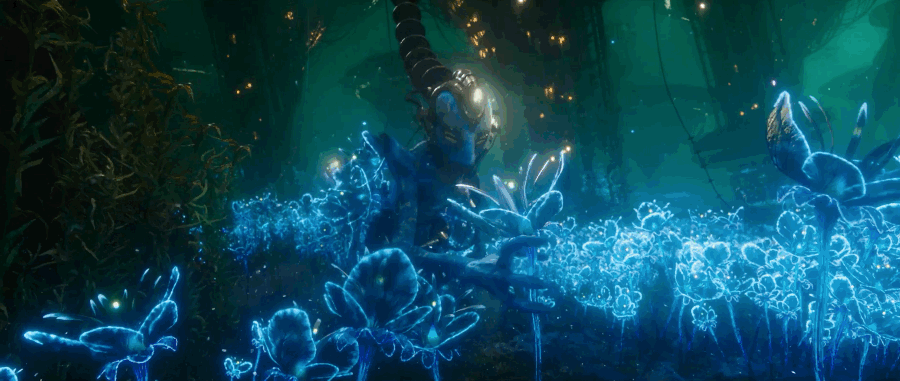 Dane DeHaan and Cara Delevingne star as Valerian and Laureline and I can't help but feel they are entirely miscast. Cara Delevingne obviously put a lot of work into this part and while she gives the best performance here, she's acting to a wall. I like Dane DeHaan but he was brutally miscast here. He does not work as Valerian and I spent much of the movie wondering who could have played the part better. The character of Valerian is supposed to be funny, charming and handsome. He's a Chris Pratt or a Tom Cruise, and Dane Dehaan just isn't that. I really want to hand it to Cara Delevingne, she's great here. She's charismatic, funny, and kick's ass. She deserves better. Honestly, no one else gives a good performance here. Clive Owen has no subtly and frankly I can't remember any other character. The acting is not laughably bad, but it seems like they all phoned it in. Maybe it was due to the weak script but that's still no excuse.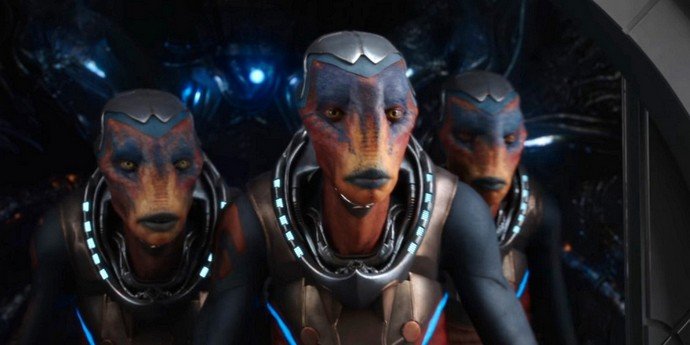 Let's get this out of the way, Valerian is a visual masterpiece. The world is beautiful and honestly gives Avatar a run for it's money. The best parts of Valerian are when the camera is flying through the city and we get to see all the different species and aliens. I was a tad let down by the score because for a movie this bombastic and large, it felt very generic and bland. There were a few dubbing issues and the editing is at times choppy. But the visuals are worth the price of admission. Go see this in IMAX, 3D, whatever you can. It's a disappointment for sure, but the world you're transported too, while fleeting, is one worth seeing.
So in short, Valerian and The City Of A Thousand Planets boasts a dazzling universe and a strong performance from Cara Delevingne, but is pretty much lacking in every other department. 2/5
Be sure to SHARE this with friends! 🙂