REVIEW — "First Man"
This was a weird prequel to Space Jam but I'll take it
First Man is directed by Damien Chazelle, written by Josh Singer and stars Ryan Gosling, Claire Foy, Jason Clarke, Kyle Chandler, Corey Stoll, Ciarán Hinds, Christopher Abbott, Patrick Fugit, and Lukas Haas. It tells the true story of the life of the astronaut, Neil Armstrong, and the legendary space mission that led him to become the first man to walk on the Moon on July 20, 1969. Now, it's no secret that I adore Damien Chazelle's work. Whiplash was one of my favorite movies of 2014 and La La Land is one of, if not my favorite film of all time. That paired with Ryan Gosling being one of my favorite actors made First Man a film I could not wait for. So, what did I think? First Man features some glaring pacing issues and some aggravating camerawork but overall is an undeniably impressive achievement, featuring some of the most awe-inspiring and intense sequences of the year, fantastic performances from the whole cast, and strong direction from Chazelle. It may be the weakest effort from Chazelle so far, but it's still a great one.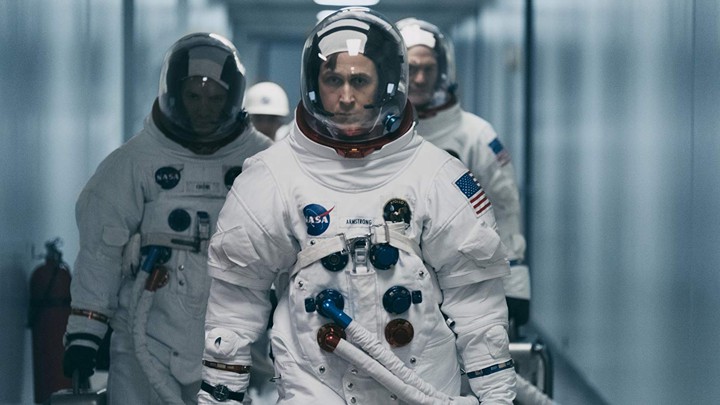 Chazelle is directing here and if you didn't already think he was the future of film, this more than proves it. First Man showcases some of the most intense space sequences of all time and Chazelle directs them with such skill and restraint that the audience can't help but be riveted. When First Man is at its best, it's phenomenal, but when it's not, it can be a bit of a drag. Chazelle occasionally has a hard time pacing First Man, and at times it can be a bit boring or unfocused. That being said, my breath was genuinely taken away at one point and Chazelle taps into the magic of filmmaking and ends with a fantastic ending. While the ride to the moon is a bit bumpy, once you get there, it's more than worth it.
Josh Singer penned the screenplay here and while it isn't exactly perfection, he does a fine job. Singer has the daunting task of adapting an eight-year story of Niel Armstrong's path to the moon and he mostly succeeds. While at times, the story can drag or feel a bit boring, there are some truly riveting and exciting sequences and Singer does a fine job of cutting the fat and leaving what's important. Singer has also weaved a truly heartwarming and moving emotional core into this epic story that left me in tears. It's not the best script in the world, but it's a damn good one.
I'll get this out of the way. The cast absolutely crushes it. Gosling does a phenomenal job here and the gives an expectedly restrained and nuanced performance. Foy almost steals the show here, giving a strong and moving performance that wowed me. Both of them will more than likely receive Oscar nominations and they will be earned. The supporting cast also knocked it out the park, with Jason Clarke, Kyle Chandler, and Corey Stoll giving particularly great performances, Stoll being my favorite. Chazelle knows how to get the most out of his actors and he clearly knows what he is doing.
On a technical level, First Man is kind of a mixed bag. It features some of the most beautiful and awe-inspiring shots of the year, but also some of the most frustrating and lazy cinematography of the year. Surprisingly, from a Damien Chazelle movie, I didn't care for the score. The editing is at times choppy, but the sound design is incredible. While First Man features some of the most impressive filmmaking of the year, I can't help but be disappointed with what I saw. Maybe my expectations were too high, but I wanted more from Chazelle.
So, in short, while First Man left me a tad bit disappointed when it's at his best, it's incredible. It's messy but undeniably impressive. 3.5/5