SSFF REVIEW — "At Eternity's Gate"
I was sitting next to the director during this and had no idea.
At Eternity's Gate is directed by Julian Schnabel, written by Schnabel, Louise Kugelberg and Jean-Claude Carrière and stars Willem Dafoe, Rupert Friend, Oscar Isaac, Mads Mikkelsen, Mathieu Amalric, Emmanuelle Seigner, and Niels Arestrup. It tells the story famed but tormented artist Vincent van Gogh and how he spends his final years in Arles, France, painting masterworks of the natural world that surrounds him. Next, in our series of SCAD Savannah Film Festival, this film has held my interest ever since I first saw the trailer. So, having seen it, was I correct in my anticipation? At Eternity's Gate is a lovely look inside the mind of one the best painters of all time, featuring gorgeous cinematography, a beautiful score, and a simply brilliant performance from Willem Defoe.
Julian Schnabel is directing here and he's just as experimental and radically different in his direction as his subject. Schnabel has little interest in telling a historically accurate story of the final years of Vincent van Gogh life, rather he seeks to put the audience in the mind of van Gogh and attempts to show us how he saw the world. Schnabel clearly feels a deep connection with van Gogh and he seeks to show, if just a little, how beautiful and chaotic the world looked through his eyes. Saying he has a firm grasp on the film would be an understatement and his passion is leaking through every frame. I have no doubt in my mind this is 100% the film he wanted to make and I'm sure he'd love to tell you that too.
The script is penned by Schnabel, Louise Kugelberg and Jean-Claude Carrière and it's definitely interesting. It's non-linear, not entirely literal, and at times, deeply moving. They are able to capture the spirit of van Gogh wonderfully while also telling a very moving and enthralling story. At Eternity's Gate spans many years and despite that, they're able to tell a very contained and streamlined story, while also showcasing van Gogh's one of a kind view of the world. If I were to point out a flaw, it has a tough time coming to a conclusion. At many points, I thought the film was close to ending, and it would keep going. There was even a point where a whole new actor showed up right as I thought the movie was ending. Other than that, the trio delivers a personal, insightful, and poignant script that paints a perfect picture of the artist.
I'll get the main course in a second, but before then I'll discuss the supporting cast. Rupert Friend, Oscar Isaac, and Mads Mikkelsen all deliver very strong and convincing performances and none of the cast stands out of mediocre or lackluster. Oscar Issac, in particular, was a delight to watch on screen, and much like van Gogh, I wished to see more of him. Now, let's get to it. Willem Dafoe is simply put brilliant, delivering what may be a career-best performance. He keeps redefining himself as an actor and with this and The Florida Project, keeps getting better. While he may be considerably older than the real van Gogh was at the time, he absolutely disappears into the character and portrays the man honestly and effectively. He definitely deserves all the awards buzz he is getting. His performance alone is reason enough to buy the ticket.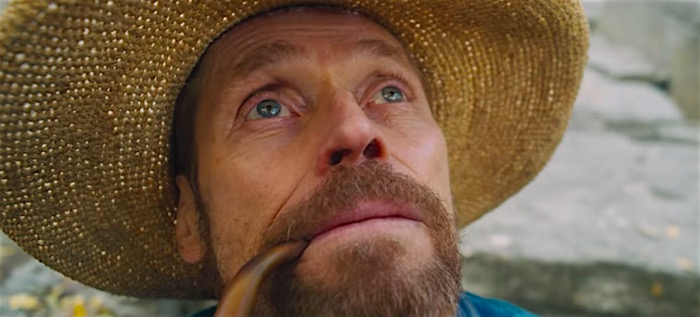 On a technical level, At Eternity's Gate is something else. I know I use this word a lot, but here it has never been more fitting. The cinematography is BEAUTIFUL, showcasing the world as van Gogh saw it. A bright, vibrant, sprawling and most of all yellow work of art. The score is incredibly unique and engaging and the camera work is bizarre and ever-changing. The environments are beautiful and the color pallet is almost orgasmic. This review has been one of the easiest to write because I just want to talk about this movie. While it's flawed, I can't help but be fascinated by it. It's captured my attention and I just want to see it again.
So, in short, At Eternity's Gate is a unique, beautiful film featuring one of our best working actors in his element. 4.5/5