REVIEW — "Blade Runner 2049"
I would trust Denis Villeneuve with my children
Blade Runner 2049 is directed by Denis Villeneuve, written by Hampton Fancher and Michael Green, and stars Ryan Gosling, Harrison Ford, Ana de Armas, Sylvia Hoeks, Robin Wright, Mackenzie Davis, Carla Juri, Lennie James, Dave Bautista and Jared Leto. It serves as a sequel to the 1982 classic Blade Runner and tells the story Officer K, a new blade runner for the Los Angeles Police Department, who unearths a long-buried secret that has the potential to plunge what's left of society into chaos. His discovery leads him on a quest to find Rick Deckard, a former blade runner who's been missing for 30 years. I feel the need to be completely honest and transparent with you. My expectations for this were through the roof. The original Blade Runner is one of my all-time favorite movies, Denis Villeneuve is one my favorite directors (I consider Prisoners one of my favorite films) and I firmly believe Ryan Gosling is the coolest man alive. In a year with titles like Justice Leauge, Logan, and freaking Star Wars: The Last Jedi coming out, Blade Runner 2049 stood as my most anticipated of the year. So while I was very excited for it, I did have incredibly high expectations. But I can say without a shadow of a doubt, it not only met my expectations but exceeded them. Blade Runner 2049 is just incredible. Technically flawless in every way, it manages to it's a fantastic sequel to blade runner, a great noir, and a phenomenal science fiction movie. This is one to see folks.
Denis Villeneuve is directing here and holy lord. Incendies, Prisoners, Enemy, Sicario, Arrival and now Blade Runner 2049. I think we can safely say he is a modern master. He has such a skill for what he does, I think he's incapable of making something bad. He's made such a name for himself, all in the span of 5 years. He directs this with such care, heart, skill, and mastery. Give this man a blank check for whatever he wants to make next. As I previously stated, Prisoners is one of my all-time favorites, and while this dosent't top that, it comes damn close. He has such an understanding of what he's doing and he knows the universe. He steps into Ridley Scott's world and kinda tops what he did with it. Villeneuve is at the top of his game, and I hope he never stops directing. If this was a baseball game, he didn't just knock it out of the park. He broke the bat and knocked the ball out of its skin.
Hampton Fancher and Michael Green penned the screenplay and, you guessed it, they kill it. Fancher wrote the first one and he is very much at home here. He improves upon the first, as while I love the first one with all my heart, it can get a tad bit boring. Forutently Blade Runner 2049 is anything but boring. Fancher and Green have crafted an absolutely riveting story, one that's even more classic noir than the first. It's a head-scratching mystery with so many twists and turns that you'll have to see it again, and you'll be happy too. They cleverly build a future world that builds upon the one set in the first, while also advancing that technology. The story is rich and the world is living. It's everything you loved about the first, with so much more on top of that. This is what sequels should be.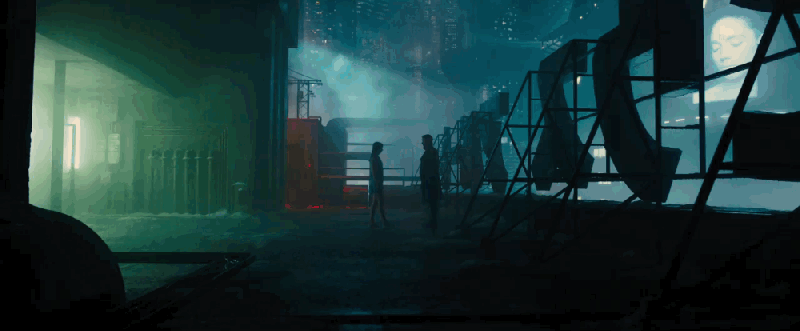 Ryan Gosling stars here and he crushes it. He plays K, our generations Deckard, and he's fantastic. He plays a very conflicted and confused character, while also having to be a cool and collected detective. I won't spoil anything about his character, but this may be his best performance yet. Harrison Ford returns as Deckard and he tops his return as Han Solo. This is his best performance in years and proves he's still a force to reckoned with. Jared Leto surprisingly does a great job. He was my biggest concern and he kills it. He is effectively creepy yet wise and although I can't help but wonder what the late David Bowie would have done with it, he does the job very well. The whole cast honestly kills it. Dave Bautista was great in his role and Robin Wright was also a welcome addition. I'm just so happy this exists and is as good as it is.
Now, I don't throw the word masterpiece around a lot, but Blade Runner 2049 is a technical masterpiece. If Denis Villeneuve is a master director, Roger Deakins is the god of cinematography. He showcases flawless camera work, beautiful scenery, and masterful shot composition. That's a fancy way of me saying this is one of the best-looking films ever made. If the academy does not honor him this year I will seriously protest. Every shot could be a painting. The score by Hans Zimmer and Benjamin Wallfisch is expectedly brilliant, recapturing the feel of the original while also inserting a new sound. I was admittedly nervous when Johann Johannsson, one of my favorite composers, exited the project and while I'd love to hear his rendition of the score, the one we get is none the less amazing. The CGI is some of the best I've seen in years, making this year's Ghost In The Shell look made-for-tv. Everything technical about Blade Runner 2049 is flawless. A stunning piece of filmmaking.
So, if you can't tell, I kinda liked Blade Runner 2049. From start to finish I was floored. It's a marvel, just like the first, and while it may be too early to say whether this sequel will have as much of an impact as it's predecessor it wouldn't surprise me if it did. 5/5
Be sure to SHARE this with friends! 🙂